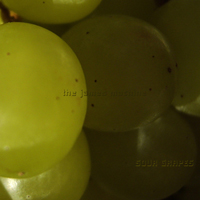 I have spent the last couple of weeks recording and mixing a new album of new songs called SOUR GRAPES. The recordings utilize midi drums, bass, and keyboards with live guitars, vocals, and percussion. I am getting used to this new recording technique and tools. These recordings are considerably more smooth than those of the 'amillionscreamingvoices' EP that I recorded this time last year.
For recording geeks, I mic'ed my Kustom '72 Coupe with an Oktava large diaphram condensor mic through an Art Tube MP preamp directly into the sound card of my PC. In the guitar effects chain, I used the Keeley Compressor on all tracks, and alternated between the Boss DS-1 distortion pedal with All Seeing Eye mod, OCD pedal, and my new Line 6 Uber Metal pedal. The drum loops were programmed on the Alesis SR-16 drum machine, then midi recorded into Acid 6 software, where all the midi tracks were arranged. I then programmed the bass track, created a mix down, and recorded the live tracks against the midi-mix in Audition 1.5. Once the live tracks were recorded, I pulled them back into the Acid project and customized the drum and bass loops.
Something that is unique to this album is that all songs were arranged and developed on the spot during these recordings. At most each song started with a ten to thirty second guitar riff and were built from the ground up. Lyrics were written immediately prior to recording the vocal tracks. I put a lot of emphasis on trusting my instincts, not necessarily spending any time in the development process, weeding out things that sound like existing songs or artists, and just let it flow.
The result is a hard-rocking set of ten new songs that [sometimes, too] clearly represents my musical influences. Artists such as Metallica, Cream, Led Zeppelin, Black Sabbath, Tool, The White Stripes, Foo Fighters, and Queens of the Stoneage, to name a few, are nearly and/or clearly 'represented' here…
This album falls somewhere between an experiment and a psycho-therapy session for me. After hearing each of the tracks somewhere around a hundred times in the last two weeks, I still enjoy listening to it and am looking forward to having final mixes.
As always, when it is complete, I will be publishing SOUR GRAPES through this web site, free of charge, complete with print-worthy album art.